When the summer heat and humidity strike, the battle against frizzy hair begins. We've all experienced the frustration of spending time styling our hair, only to have it succumb to the relentless moisture in the air, leaving us with a frizzy mess. But fear not, because in this article, we will unveil a collection of hairstyles specifically designed to tame the frizz and keep your locks looking fabulous in even the most humid weather conditions. From understanding the effects of humidity on your hair to essential tips and tricks, as well as a wide range of hairstyle ideas, we've got you covered. Say goodbye to unruly hair and hello to a sleek and stunning look, regardless of the humidity levels. So, let's dive in and discover the secrets to mastering hairstyles for humid weather and taming the frizz once and for all.
Essential Tips for Managing Humidity-Induced Frizz
Choosing the right haircut for humid weather:
When it comes to combating frizz in humid conditions, your haircut plays a crucial role. Opting for a haircut that suits your hair type and texture can make a significant difference in managing frizz. For instance, shorter hairstyles like pixie cuts and layered bobs tend to be more manageable in humid weather, as they reduce the amount of hair exposed to the moisture in the air. These cuts also provide a lightweight feel and are easier to style and maintain, making them ideal choices for hot and humid climates.
Proper hair care routine for humidity:
To effectively manage frizz in humid weather, establishing a proper hair care routine is essential. Start with the basics: shampooing and conditioning techniques. Look for shampoos and conditioners specifically formulated to combat frizz and provide moisture. Focus on gently massaging the scalp and applying conditioner mainly to the ends of your hair to avoid weighing it down.
Choosing the right products is crucial in controlling frizz. Anti-frizz serums, leave-in conditioners, and styling creams can be your best friends in humid conditions. Look for products that contain ingredients like argan oil or shea butter, known for their hydrating and smoothing properties. Apply them to damp hair, distributing the product evenly from mid-length to ends.
While heat styling may seem like the go-to solution, it can actually worsen frizz in humid weather. Avoid excessive heat styling as much as possible. Embrace your hair's natural texture and try heat-free styling methods to reduce damage and frizz.
Drying techniques for frizz-free hair:
Proper drying techniques can make a significant difference in preventing frizz. When towel-drying your hair, opt for a microfiber towel or an old t-shirt instead of a regular bath towel. These materials are gentler on the hair, reducing friction and preventing frizz.
Air-drying is a great option for minimizing frizz in humid weather. After towel-drying, allow your hair to dry naturally without using any heat. To enhance your hair's natural texture and minimize frizz, scrunch your hair gently with your fingers while it dries.
If you have curly hair and prefer a more defined look, a diffuser attachment for your blow dryer can be a game-changer. Set your dryer to low or medium heat and use the diffuser to dry your hair, cupping sections of hair in the diffuser's bowl to encourage curl formation and minimize frizz.
Protective hairstyles for humid weather:
When the humidity is high, it's beneficial to embrace protective hairstyles that keep your hair tucked away, reducing its exposure to the elements. Updos and buns are classic choices that not only look elegant but also protect your hair from frizz-inducing humidity. Braids and twists are another excellent option, providing both style and functionality. They keep your hair secure and protected while preventing frizz and maintaining a neat appearance. Ponytails and top knots are quick and easy solutions for humid weather, keeping your hair off your face and neck while adding a touch of sophistication to your look.
Hairstyle Ideas for Humid Weather
Short hair options:
Pixie cuts and cropped styles:
Short haircuts like pixie cuts and cropped styles are perfect for combating frizz in humid weather. These low-maintenance cuts keep your hair lightweight and reduce the amount of hair exposed to moisture. Embrace your natural texture or add some texture with a texturizing spray for a chic and effortless look.
Layered bob haircuts are versatile and work well in humid conditions. The layers add movement to your hair, preventing it from falling flat in the humidity. Embrace the tousled look or use a sea salt spray for enhanced texture and a beachy vibe.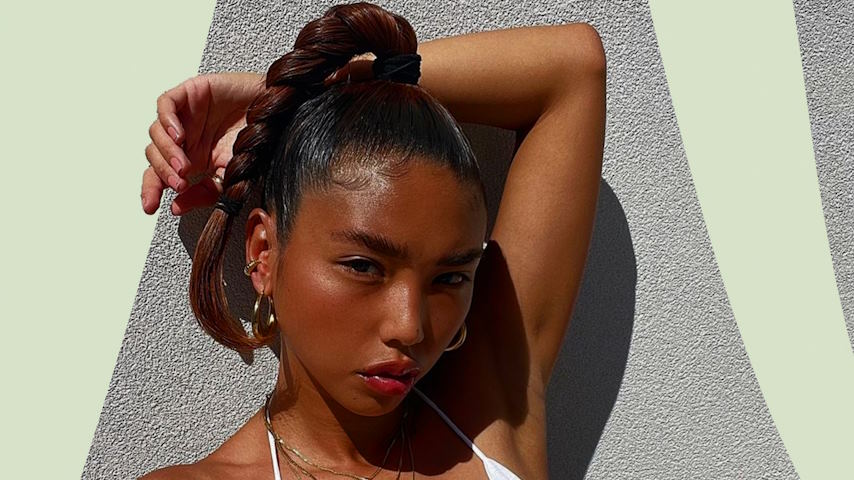 Medium-length hairstyles:
Beachy waves and textured styles:
Embrace the carefree and beachy vibes with medium-length hairstyles. Effortlessly tousled beachy waves are not only stylish but also work well in humid weather. Use a curling wand or braid your hair overnight for natural-looking waves that withstand the moisture.
Half-up, half-down hairstyles:
Half-up, half-down hairstyles are a fantastic choice for medium-length hair in humid conditions. Opt for a messy bun, a twisted half-up style, or a boho-inspired half-up braid. These hairstyles keep your hair off your face while allowing you to show off your length.
Long hair options:
Loose curls and soft waves:
Long, loose curls and soft waves are timeless and work beautifully in humid weather. Create loose curls with a curling iron or use overnight braids for a more relaxed look. Finish with a light-hold hairspray to keep the frizz at bay.
For a sleek and polished look that withstands humidity, try a high ponytail. Smooth your hair back, gather it at the crown of your head, and secure with a hair tie. Use a bit of anti-frizz serum or hairspray to tame any flyaways.
Protective hairstyles for all hair lengths:
Fishtail braids and French braids:
Fishtail braids and French braids are not only beautiful but also provide excellent protection against humidity-induced frizz. These braided styles keep your hair secure and prevent it from being exposed to the moisture in the air. Experiment with different braid variations for a stylish and practical look.
Low buns and chignons are elegant and functional hairstyles for humid weather. Gather your hair at the nape of your neck and twist it into a low bun or chignon. Secure with bobby pins and finish with hairspray for a sleek and polished look that stays intact despite the humidity.
With these hairstyle ideas, you can confidently embrace humid weather without worrying about frizz ruining your look. Whether you have short, medium, or long hair, there are plenty of options to keep you stylish and frizz-free. So, go ahead and experiment with these hairstyles to find the perfect one that suits your personal style and keeps your locks looking fabulous in any humidity.