When it comes to mastering the art of makeup, having the right tools is just as important as having the right products. And at the heart of any makeup kit lies a collection of essential brushes that can make all the difference in achieving a flawless look. If you're a beginner navigating the vast world of makeup brushes, fear not!
Concealer Brushes: Perfecting Your Coverage
When it comes to achieving flawless skin, a reliable concealer brush is an indispensable tool in any makeup lover's collection. Concealer brushes are designed to provide precise application and seamless blending, allowing you to effortlessly camouflage imperfections and blemishes. In this blog section, we'll explore two types of concealer brushes that every beginner should have: the small synthetic brush and the fluffy concealer brush.
Small Synthetic Brush: Precision at Your Fingertips
One of the go-to brushes for precise concealer application is the small synthetic brush. Its compact size and firm bristles make it ideal for targeting specific areas that require extra coverage, such as under-eye circles or individual blemishes. This brush allows you to apply concealer with precision, ensuring that you're only covering the areas that need it, without wasting product. To achieve a natural finish, gently pat the brush onto the skin, building up the coverage gradually. This technique helps the concealer blend seamlessly into your skin, providing a flawless and airbrushed look.
Fluffy Concealer Brush: Versatility and Blending Power
For larger areas or when you want a more diffused coverage, a fluffy concealer brush is your best friend. With its soft, rounded bristles, this brush effortlessly blends concealer for a natural and smooth finish. The fluffy brush is perfect for covering larger areas, such as redness on the cheeks or discoloration around the nose. To utilize this brush effectively, simply apply concealer onto the desired area and use gentle sweeping or circular motions to blend the product into your skin. This brush is also great for layering different concealers or even for applying setting powder to ensure long-lasting coverage.
Eyeliner Brushes: Mastering the Art of Precision
When it comes to achieving that perfect winged liner or a defined, sultry gaze, the right eyeliner brush can make all the difference. Whether you prefer a bold cat-eye or a subtle flick, having the proper tools at your disposal is essential. In this blog section, we'll explore two types of eyeliner brushes that every aspiring makeup artist should have in their arsenal: the angled eyeliner brush and the fine-tipped brush.
Angled Eyeliner Brush: Precision in Every Stroke
The angled eyeliner brush is a must-have for precise and controlled eyeliner application. With its slanted bristles and a firm yet flexible texture, this brush allows you to effortlessly create defined lines along your lash line. Whether you prefer a thin and subtle line or a bold and dramatic stroke, the angled eyeliner brush offers versatility and control. To create different eyeliner styles, simply adjust the angle and pressure of the brush. For a classic winged liner, angle the brush towards the outer corner of your eye and gradually extend the line for a flattering flick.
Fine-Tipped Brush: Unlocking Intricate Designs
For those who love to experiment with intricate eyeliner looks, a fine-tipped brush is a game-changer. This brush features a slender and precise tip, perfect for creating intricate designs, such as graphic liners or detailed patterns. With a fine-tipped brush, you can effortlessly draw thin and precise lines, allowing you to showcase your creativity and add unique flair to your eye makeup. When using a fine-tipped brush, it's important to have a steady hand and apply gentle pressure. Take your time and build up the line gradually for a flawless and artistic result.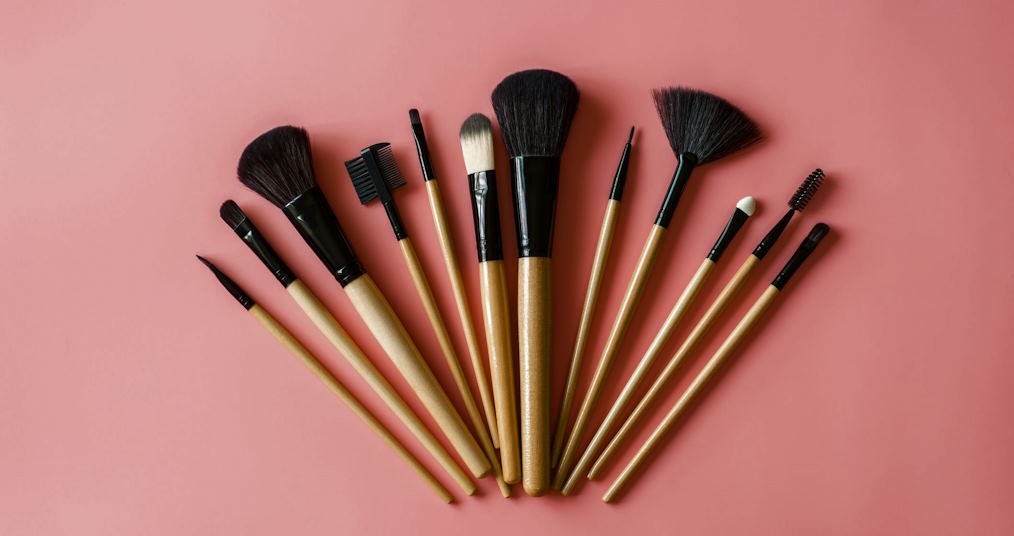 Blush and Powder Brushes: Adding the Finishing Touch
Blush and powder are the final steps in completing any makeup look, giving your face a beautiful, polished finish. To ensure a seamless application and a natural-looking flush, having the right brushes is crucial. In this blog section, we'll explore two essential brushes for blush and powder application: the fluffy blush brush and the large powder brush.
Fluffy Blush Brush: Achieving a Natural Flush
The fluffy blush brush is designed to distribute blush evenly and effortlessly onto the apples of your cheeks, creating a natural flush of color. Its soft, dense bristles pick up just the right amount of product, ensuring a gentle application. To achieve a natural finish, smile and lightly sweep the brush along the apples of your cheeks, blending the color outward towards your temples. To prevent any harsh lines, use circular motions to diffuse the blush, creating a seamless transition between the color and your skin. This brush is also great for blending multiple blush shades together, allowing you to customize your desired hue.
Large Powder Brush: Setting the Stage for Flawless Makeup
A large powder brush is an essential tool for setting your makeup and achieving a matte finish. Its full and fluffy bristles evenly distribute powder across your face, minimizing shine and extending the longevity of your foundation. To apply powder evenly, lightly dip the brush into loose or pressed powder, tapping off any excess. Starting from the center of your face, gently sweep the brush outward in a downward motion. This technique helps to set your makeup without disturbing the underlying products. For a more targeted application, you can also use the large powder brush to dust powder onto specific areas, such as the T-zone or under-eye area, to control excess oil or prevent creasing.